Venerable Margaret Sinclair:
Sister Mary Francis of the Five Wounds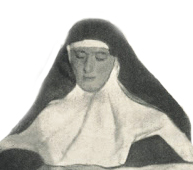 Margaret Sinclair
Sister Mary Francis of the Five Wounds
(1900 - 1925)
Margaret the Bride


On the day of her clothing, her bridal day, Margaret Sinclair adorned in her white bridal dress and veil would of made haste with joy, to surrender her young life totally to Jesus Christ, her Spouse.

Desiring with all her heart and soul to serve Christ as a Poor Clare Extern Sister in Holy Mother Church, and specifically within the community that God had led her too, The Poor Clare Monastery in Ladbrooke Grove, Notting Hill, London, she eagerly whispered her, fiat!

The community having been assembled with lighted candles, the sisters proclaimed,

"Come Bride of Christ and receive the crown prepared for you"

At a given moment sister would then have laid aside her earthly finery, and after her hair having been cut round, was then dressed in her holy habit, cord, the white veil and kerchief of a novice. After which Mother Abbess would have said,

"Dear Sister, since you have now changed your state of life, you will now change your name, in future you shall be known as Sister Mary Francis of the Five Wounds."

To which the new novice would of responded, having kissed the proffered crucifix,

"God forbid that I should glory, save in the Cross of Jesus Christ my Lord, through whom the world is crucified to me and I to the world"

"Come Bride of Christ and receive the crown prepared for you".

The crown that Margaret was to receive was the crown of suffering, for the Lord called her all too soon upon the path to her Calvary.

But was Margaret not given, under the inspiration of the Holy Spirit made manifest through the community, the mystery after her name, that of Sister Mary Francis ... "of the Five Wounds."?

Margaret both received the name of her stigmatised patron, St. Francis of Assisi, and also the mystery of the Five Wounds of her Lord.

St. Clare is recorded as having a great devotion to the prayer of the five wounds, and still today the Cross prayers are prayed kneeling with arms outstretched in a cruciform, uniting all the petitions, intentions, and love of her heart to God. Many of us will have received a new name when we became a religious, far more of us will have received a new name at confirmation, the name of a St., an angel, or a virtue.

Nothing that occurs to us in our lives is by chance, everything serves Gods purpose and will, although in all possibility we do not understand it, and it may indeed be a long long time before we grow into that deeper awareness of what God really desires of us and for us.

But the name we receive, somehow, we are meant to become what the name represents, or in some way reflect some aspect of the life of the St. or angel that has been given to us as a protector and guide.

Looked at realistically we could have chosen, or have been given a thousand other names, but we have just one given, or chosen for us.

Margaret Sinclair became, Sister Mary Francis of the Five Wounds – she truly became through her great sufferings, a wounded Christ, given for others ... as Margaret was to say, so beautifully,

"If I could gain one soul for Jesus it would be worth it all.
A Poor Clare Colettine Nun
---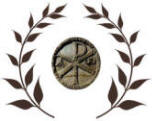 Totally Faithful to the Sacred Deposit of Faith entrusted to the Holy See in Rome

"Scio opera tua ... quia modicum habes virtutem, et servasti verbum Meum, nec non negasti Nomen Meum"
"I know your works ... that you have but little power, and yet you have kept My word, and have not denied My Name." (Apocalypse 3.8)
Copyright © 2004 - 2023 Boston Catholic Journal. All rights reserved. Unless otherwise stated, permission is granted by the Boston Catholic Journal for the copying and distribution of the articles and audio files under the following conditions: No additions, deletions, or changes are to be made to the text or audio files in any way, and the copies may not be sold for a profit. In the reproduction, in any format of any image, graphic, text, or audio file, attribution must be given to the Boston Catholic Journal.