Semina aeternitatis — the Seeds of Eternity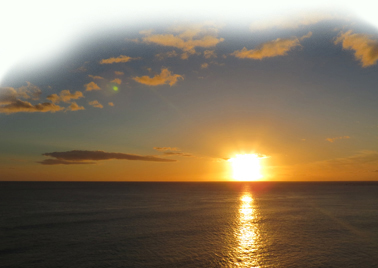 "Usque huc venies, et non procedes amplius" (Job 38.11)*
Illusions



"

Fawn upon no one and have no illusions. They can do nothing for us. The will of God alone can satisfy us." (Imitatio Christi) You ingratiate yourself with others because you believe that it will bring you favor and advantage — but do not so much as bend your knee before God, from Whom you have all that is good and Who protects you with His very Angels. You are too proud to pray to God, but not to flatter men ... Are you greater than Saint Paul who said,

"

Do I seek to please men? If I yet pleased men, I should not be the servant of Christ." (Galatians 1.10)

Choose wisely whom you will serve.



---

"

I feel more and more like an exile"

The earth, this life, was once beautiful and truly home. No fears of loss, no anxiety, no loneliness, no want ... it was home. But our First Parents lost that home, and we as their progeny, have lost it, too — although deep in our remembrance we recall, however indistinctly, the "Family Home" that should have been ours, too, but had been lost through Original Sin.

We look as through a primeval haze at a place that was, and would always be, "ours", and we see it peopled with all those we love and would never have lost — a

"

Family forever" — happy, secure, and enduring without end. It is a vision from the past of what will be in the future, except that the Promised Home will be forever ours, and our family there will be together in a way that will never be sundered. It is the Home that Jesus went to prepare for us, and to which He calls us as to a family brought together from an exile that, after all, proved to be very short. No longer will we hang our harps upon the sad boughs over a passing river that flowed longingly out of captivity.

"

How shall we sing the song of the Lord in a strange land? If I forget thee, O Jerusalem, let my right hand be forgotten." (Ps. 137.5)

This is our plight now. Even when we sing songs of rejoicing, how seldom there is real joy in our hearts. We are in a foreign land. But we never forget the Heavenly Jerusalem! We have grown up in captivity, but hear and remember the songs of rejoicing in that place which we have never seen but which is truly our Home — a place that is and will always be.



---

The Life of Faith



"

The life of Faith is the untiring pursuit of God through all that disguises and disfigures Him." (Father Jean Pierre de Caussade — Abandonment to Divine Providence)


---
Quatuor Novissima — the Four Last Things: Death, Judgment, Heaven, and Hell. They have stood before us since the dawn of reason in late childhood, have they not? We have sensed them in some primordial way that is integral to our being, and inescapable since understanding, despite every effort to distract us from them. We knew the sun would set. It always had, in every generation. It was a standing summons ... only deferred. The stern and somber Halls of the Great etched their alternating alabaster and darkly-marbled remembrance upon us, lest we forget. Row on undulating row of parchmented granite, cool under the cypress trees, stretched before us to what seemed eternity. We came to know death, stillness, and tolling bells. Sun-splashed Sundays found us in impossibly green fields of sometimes pallid, sometimes polished inscribed stones of such solemnity! We knelt and prayed. Days of remembrance ...


---
Do not fear, Little Ones, that you do not know much. You only need to know God — for in knowing Him, you will love Him, and in loving Him truly you will serve Him, and so save your soul for what is everlasting in Heaven — not here on earth where all passes away. There, nothing passes away and cannot be taken from you ... ever. Strive to know Jesus Christ, His Gospel, and remain faithful to the Sacraments of the Church, and you will have nothing to fear. All the knowledge in the world will not bring you to Heaven. Only love will: love for God, and for one another in Christ. Knowledge will bring you to vanity, but love will bring you to Paradise.




---

God does not call us to mediocrity, but to greatness; to greatness in Faith, in Hope, in Charity, in Love; to the greatest adherence to Him in all He teaches us, in all He commands us. He demands much and we must give much — in fact, all. All. All that we are and all that we have — for He gave it to us first and it is His! The lukewarm, He warns us in the holy Book of the Apocalypse, "He will vomit from His mouth." (Apoc. 3.16) We should tremble at these words.

We have forgotten holy zeal for God and the salvation of immortal souls for all eternity. We have traded friendship with God for friendship with the world — which ever hated Him ... and which will hate you, too, once you deny yourself daily, manfully take up your Cross, and follow Him apart from Whom alone none come to the Father. He is the only Way. There is no other. And still you hesitate, demur, and make excuses even at the threshold of the door of death that shall surely close upon you.
---
A Question for the Editor:

Dear Editor,

I really wonder how you can have such a "nail-on-the-head" article, "When Catholics are not Catholic," and yet miss the point yourself by stating at the bottom of the page: "Totally Faithful to the Holy See in Rome" and by not making any mention of the roll both "Vatican II" and the "Holy See" have and have had in the demise of the Faith.

In Christ,
Kenneth


EDITOR'S REPLY:

We are "Totally Faithful to the Sacred Deposit of Faith (Depositum Fidei) entrusted to the Holy See in Rome" that existed in perpetuity from Saint Peter. This is the Deposit of the Faith for nearly 2000 years, and Christ promised that the gates of Hell will not prevail against the Church built upon Saint Peter. We cannot exist outside the Body of Christ of whom Christ Himself is the Head (1Corinthians 2.12, 12.27; Colossians 1.18, etc.). To all authentic Church teaching embodied in the Deposit of Faith we are unalterably faithful. Sadly, not all the popes of Holy Mother the Church have been holy; indeed, Pope Honorius was anathematized in 680 Anno Domini, condemned as a heretic and excommunicated — forty years after his death! We need only look at the Borgia Pope Alexander VI of such ignominy. In more modern times we have whom we believe to be the much mistaken Pope John XXIII who convened the Second Vatican Council and whose last words were: "Stop the Council!" We now see current popes canonizing virtually all their immediate predecessors, which appears scandalous (only God knows) and our present pope, Francis, issuing encyclicals on the environment and economics! We do not consider these issues to be within the area of his competency or divinely invested power, nor are we able to reconcile it, except very broadly and tangentially. When Christ said to Saint Peter, "Feed my sheep." (Saint John 21.17) We do not believe He had in mind "the tragic effects of environmental degradation on the lives of the world's poorest (Laudato si 13) or "the intimate relationship between the poor and the fragility of the planet" (16). Yes, as Saint James is clear (St. James 2.16), we have a responsibility for providing for those in need. But Christ also recognized a greater need: "Amen, amen I say to you, you seek me, not because you have seen miracles, but because you did eat of the loaves, and were filled. Labor not for the meat which perisheth, but for that which endureth unto life everlasting, which the Son of man will give you." (Saint John 6.26-28). In this regard Christ told Peter to "Feed My sheep." It was not an economic mandate.




---




If the Pope pontificates on economics we must ask ourselves, can an economist pontificate on the Papacy? "Of course not", you say, "The province of expertise embodied in an economist does not qualify him as a theologian. It's not his job description. He may have opinions on the matter but that is all they are: "opinions." By the same reasoning, neither can a pope pontificate on economics. It's not his job description. His job description is spiritual: proclaiming the Gospel and saving souls. In fact, his Master clearly states that His Kingdom is not of this world." ("Regnum Meum non est de hoc mundo"). An economist's job description is temporal: to research and analyze economic issues: it precisely pertains to the world, matter, money, and financial assets. Would you go to Warren Buffet for spiritual advice on moral matters? Would you go the pope for economic advice concerning your retirement options? Really? It is a matter of competency and invested authority. Would you attend a seminar featuring Warren Buffett on the topic of saving your soul and going to Heaven? Would you go to one featuring Pope Francis on organizing your work strategy and finances? You would cock your head in bewilderment and politely decline both. Or do I have a deal for you on ocean-front property in Nebraska!

Until the pontificate of Francis we, as Catholics, had two holy Mothers:

Our Holy Mother the Church

Our Holy Mother, Mary

... and now "our holy Mother Earth"?

Pope Francis insists that we:

"Love the land as Mother earth"

"Make alliance with Mother Earth"

"This sister [Earth] now cries out to us because of the harm we have inflicted on her by our irresponsible use and abuse of the goods which God has endowed her with. We have come to see ourselves as her lord and masters, entitled to plunder her at will. The violence present in our hearts, wounded by sin, is also reflected in the soil, in the water, in the air, and in all forms of life." This, however, is not how God Himself saw it from the beginning: "Let us make man to our image and likeness: and let him have dominion over the fishes of the sea, and the fowls of the air, and the beasts, and the whole earth, and every creeping creature that moveth upon the earth. And God created man to his own image: to the image of God he created him: male and female he created them. And God blessed them, saying: Increase and multiply, and fill the earth, and subdue it, and rule over the fishes of the sea, and the fowls of the air, and all living creatures that move upon the earth." (Genesis 1.26-28)

"We human beings are united as brothers and sisters on a wonderful pilgrimage, woven together by the love God has for each of his creatures and which also unites us in fond affection with brother sun, sister moon, brother river and mother earth."

"One thing is certain: we can no longer turn our backs on reality, on our brothers and sisters, on Mother Earth," (speech at the Pontifical Catholic University of Ecuador)

And that, "The system of production and distribution of food must be radically rethought." (we do not know what school of theology this derives from)

If much of this is reminiscent of New Age thought and the culture of the 60's, we are at least inclined to wonder at the correspondence.

We pray for Pope Francis, that God lead him and guide him in His ways, and not the ways of the world.

In our humble — and perhaps even mistaken opinion — the last truly holy and absolutely faithful pope was Pope Pius X. The Seat of Peter did not expire after his death. Whether or not it has been heroically Catholic in the last 50 years is, in our opinion, very questionable. The Church has suffered much and terribly as a consequence of Vatican II. But just as Pope Pius X sat upon the Cathedra that Honorius and Alexander stained, another Pope of heroic Catholic sanctity may await us and restore what had been — once again, in our opinion — illicitly deprived of us. In that sense we are, indeed, Faithful to the Sacred Deposit of Faith entrusted to the Holy see in Rome when it is exercised as such in conspectu Dei, and in complete continuity and agreement with that 2000 year Deposit of Faith — which is susceptible to being (illicitly) ignored or prescinded from to the ends of man, but from which no one can deprive Catholics — and which none can abolish.

Remember the admonition of Saint Paul to Saint Timothy: "For there shall be a time, when they will not endure sound doctrine; but, according to their own desires, they will heap to themselves teachers, having itching ears: And will indeed turn away their hearing from the truth, but will be turned unto fables." ( 2 Tim. 4:3-4)

May we humbly ask that you pray for us, and for all who contend against "the deceits of the devil. "For our wrestling is not against flesh and blood; but against principalities and power, against the rulers of the world of this darkness, against the spirits of wickedness in the high places." (Eph. 6.11-12)



God keep you

Editor
Boston Catholic Journal

______________________________
* "Hitherto thou shalt come, and shalt go no further." (Job 38.11)