THE SACRED RULE


for Properly Celebrating the Most Holy Sacrifice of the Mass

DO NOT DO at Mass what you would not
do were you standing at the foot of Christ hanging on the Cross before you.
DO at the Most Holy Sacrifice of the Mass what you would do
were you standing at the foot of Christ hanging on the Cross — for at Holy Mass you
are at the crucifixion of Christ on the Cross, really and truly. Had you closed your eyes for a moment while standing before Christ on the Cross, you would be where you are this day at the Most Holy Sacrifice of the Mass.

DO what you would have done. DO NOT DO
what you would never have done.

This is the proper disposition of the soul at every single Mass.
Why we have Lost God
("What is the Matter?")

We live in a world of matter
Matter is the substance of the senses. It is apprehensible. We touch it, feel it, manipulate it, make things of it, and even destroy it (yes, I know the principle of "the conservation of matter", but you get the point.) It is tactile, sensuous, and often pleasing to the eye, the touch, and our other senses. It alternately excites us and repels us. It is what we see when we open our eyes, what we feel when we touch anything.

It is the world we know
Increasingly, it is the only world we know. Every other "possible world" has receded before the incursion of the senses and the accompanying demand for instantaneity: pleasure now, satisfaction now, information now, fulfillment now — and on a broader level, peace now, justice now and equality now. We have all heard the political and social mantra that first came to us from the tumultuous and purple-hazed 60's by now, and we even know its cadence. The "cause" matters not, for the response has by now become childishly reflexive: "What do we want?" (insert whatever here) "When do we want it? Now!"

Again. And again. And again, as though repeatedly demanding what we want like a spoiled child will produce it … because it worked when we were children. Our parents taught us by example, by collapsing before the incorrectitude of the negative "No!" We always got what we wanted.

And so did our parents.

Do you want anything — however absurd? Then agitate, demand, and never take "no" as an answer, however unimpeachable the authority. Not even from God. Not even from His Church which we hold to be both the the Bride and the Body Christ. We want to "feel" justified, be "affirmed" in our childishness, and have our way if "the other" is unwilling — however clear, however ontologically defining the principles upon which and in which it exists in se —and if we are denied our desires, then we will legislate them, find some obscure or unbalanced "academic" to "authenticate" us, a celebrity "in solidarity" with our petulance to publicize us, and a venal politician to "empower" us … until our desires become our laws — which is to say, until our senses grasp, seize, what they lust for.


Politics is the venue of power, not mind. Hollywood is the venue of entertainment, not reality which, despite the protestations of the senses, is only discernible through the mind and that impetuously inconvenient faculty called reason that we abhor because it defies us.

The Parallax of Reason ... and Sensation
We do not want reason. We do not want mind. We want sensation — the stimulation and the satisfaction of the senses! What have we to do with inflexible reason? With God? With things less than rhapsodic, with lasting concepts … even purported everlasting realities … with the deliverances of anything devoid of tactility, before the contempt of the court of immediacy that governs the senses?

We ourselves are composed of matter — we recognize this even if we have forgotten that it is only half the equation of our being human, for the other half is spirit … the immaterial soul which is not apprehensible by the senses, only by the mind, a concept perhaps best expressed by the German noun, "Geist" that alternately denotes, "the mind", "the psyche", "spirit", "soul", and even "ghost".

We are profoundly more than our appetites. Just as God is profoundly more than "feeling good about oneself." Eternity extends before us — and we know it, but we treat it as we treat time: passing, changing, mutable, pliable to our desires. And for a while it is so.

But we know that it will not always be so. We sense "ending". We intuit that there is a terminus to our being in time and that something must lie beyond it — even if it is the skeptic's cold, sterile, embalmed "nothing" that we nevertheless irresistibly perceive as something in what we persist in describing as "nothingness". Because we are permeated with time and insensible (and this is not the same as "inapprehensible") to the eternal, we even perceive "nothingness" — despite our insistence that it is otherwise — as somehow perduring. It is a tentative state of utter suspension — even while we declare that nothing is suspended. It is a kind of eternal obit that will declare, somehow inscribe, even monumentally testify to our being long after it has ceased and presumably never to be read.

When we lost God — whenever that might have been — we lost our raison d'être. We do not know it because we refuse to confront it and we do not confront it because we have not known God, or once having known Him have repudiated Him, even denied Him, in favor of our own temporal desires which, like their objects in space and time, will surely pass. Only God remains. History testifies to this.

Desistite, et agnoscite me Deum: "Be still and know that I am God!"

Our restlessness is both an invitation by God and the testimony to our blindness apart from Him.




Printable PDF Version

---
Announcing the Formation of a New and Unique Apostolate Launched by Nuns in the UK
We are pleased to announce the formation of a new Apostolate created by a Community of Poor Clare Colettine Cloistered Nuns in Hawarden, Wales, which endeavors to bring laymen and laywomen, the old and the young, into close personal communion with a Religious Order that began in the Middle Ages and continues to this day in the distinct Franciscan charism authentically lived in a Papally Enclosed monastery in the UK. It is an opportunity for laymen, laywomen, the elderly and even children, to share in the spiritual treasury of prayer and good works that the Nuns gather up in offering to God by the lives they live and the prayers they utter — now in communion with you! The following letter from the Poor Clare Nuns is addressed to you ... and to us.


For the readers of the Boston Catholic Journal — announcing the formation of the Companions of St Clare & St Colette.


Inspired by the Holy Spirit, created for you in love, we have the joy to announce to you the launching of, "The Companions of Saint Clare & St Colette".

This initiative is a response to so many people amongst the laity who over the years have expressed the desire to be affiliated with the Ty Mam Duw Poor Clare Colettine Community, North Wales, UK, in some way or other. It has been our hope for a long, long time, and much prayer has gone into this endeavour. We pray that it will meet a very definite need that so many people feel: the need to pray in a practical, livable way in the spirit of Saint Clare & Saint Colette and to be united with the Community.

It is open to all: men, women and children.

Our Abbess, Mother Damian, and the Community have created a little booklet, which is intended to help you pray, and if you find you need help regarding the contents of the booklet you are free to visit us, write or e-mail us. There is also a silicone band, your badge of membership, a tangible reminder of your belonging to us, and we to you.

If you would like to be a, Companion of St Clare & St Colette please be so kind as to forward us your land address so that we can send you the Booklet and Band.

An e-mail distribution list is being compiled so that from time to time, for example, during Advent and Lent a follow up mail will be sent out to The Companions of Saint Clare and Saint Colette.

The Booklet and the band are our gift to you. We are all part of the family of God. You can repay us by praying for the Community and all whom our lives touch.


Your loving little Sisters at Ty Mam Duw


Ty Mam Duw Poor Clare Colettines Community
Upper Aston Hall Lane, Hawarden,
CH5 3EN WALES GB
community@poorclarestmd.org

Editor's note: a PDF file of the booklet can be downloaded here which you can print or save on your computer and use immediately.

Suggested Reading: The Chaplet of Saint Colette (with audio files) and The Poor ClareTestament of Saint Colette and
A Commentary on the Poor Clare Testament of Saint Colette

---
New Series:
"From a Monastery Garden"



Reflections on our Life in Christ through the Heart of a Consecrated and Cloistered Nun
Every so often, we will bring you reflections from a Consecrated and Cloistered Nun which help us to see our way forward though difficult — and even wonderful — occasions in our lives. She is the Bride of Christ — We suggest that you listen to her carefully. It may be the very reason that you have come to this page ... although you could not have possibly foreseen it — but God did.

Dear Little Hearts,
Let us impart blessings one to another. A blessing is so infrequently encountered these days ... and yet it is a practice at the heart of Holy Mother the Church and of Catholic families for over 2000 years! In this holy gesture made with the Sign of the Cross, we invoke God Himself when we bless another, and implore all His gifts and protection — so needed in these days of persecution: the persecution of the Church, of Christians throughout the world, and of Christ Himself.
Especially dear to us in cloistered life is the Blessing of Saint Colette, which we share with you below:

"Jesus-Maria-Anna

I pray that the Blessed Holy Spirit will always keep you in his holy grace and lead you at last to eternal glory.


May the Father in his Mercy,
the Son, by his holy Passion,
and the Holy Spirit, the fountain of peace, sweetness, love and all consolation
come down upon you and remain with you always."

(The Blessing of Saint Colette)

In humility and love in the Sacred Heart of Jesus,

Sister MM
---
Dear Little Hearts,
We may be sorely tried, but we are never tried beyond our strength. God is good and God is merciful and He gives the gift of friendship when and where He will.

In this utter poverty of being 'an Abbess of a (monastery) a disused quarry', God sent to Colette her two faithful childhood friends, Marie Senechal and Guilemette Chestian. They were the only two in the whole of Corbie who showed Colette compassion, understanding and support. "We want to join you, we want to enter your reform" ... this must have been like music upon Colette's heart and it showed great trust and confidence from her two childhood friends, who then became her first postulants.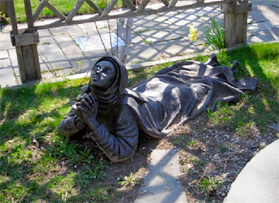 There is a beautiful vignette recorded of Marie and Guilemette sitting in the Quarry reciting the beautiful words taken from the book of Ruth:

"And Ruth said, Intreat me not to leave thee, or to return from following after thee: for whither thou goest, I will go; and where thou lodgest, I will lodge: thy people shall be my people, and thy God my God ..."

Saint Colette had been authorized to begin the reform in Picardy, but a prophet is never welcome in his or her own home, as Jesus Himself said, so she told Guilemette and Marie that she would attempt the establishment of a monastery of the primitive observance in Amien and then in Noyon.

And so the little company, Colette, Fr Henri, Marie and Guilemette, set out with this intention, but they very soon discovered once more that they were not wanted and again there was, so to speak, no room at the inn. Both the sisters at Amien and Noyon were quite content with the life they were leading with all its relaxations and they didn't want to be reformed ... thank you! Somewhat reluctantly and disappointedly the little band once again returned to the Quarry outside Corbie.

In justice it should be noted that not all Poor Clare Monasteries of that period had fallen into lax ways and those that to those who had been faithful Colette was full of praise.

But all was not lost! Fr Henri and the Holy Spirit were to come to the rescue!

(to be continued)
Sister MM
---
"What is Holiness?"
Holiness — sanctity — is simply the conformity of the will to the will of God.

| | |
| --- | --- |
| | If you listen to no other homily on being a Catholic and your obligation to love God and your neighbor ... listen to this: The Law of Love by Venerable Servant of God Fulton Sheen |
---

The Complete Martyrology in

English
ROMAN MARTYROLOGY

Monday October 20th in the Year of Grace 2014
Season after Pentecost

This Day, the Twentieth Day of October

In Poland, St. John Cantius, priest and confessor. Being glorious for virtues and miracles, he was inscribed among the saints by the Sovereign Pontiff, Clement XIII.

At Abia, near Aquila, in Abruzzo, the birthday of blessed Maximus, deacon and martyr, who, through the desire of suffering, presented himself to the persecutors that sought him. After answering with great constancy, he was racked and tortured, then beaten with rods, and finally he died by being precipitated from an elevated place.


At Agen, in France, St. Caprasius, martyr. As he was hiding himself in a cavern to avoid the violence of the persecution, the report of the blessed virgin Faith's courage in suffering for Christ animated him to endure torments, and he prayed to God that, if he were deemed worthy of the glory of martyrdom, clear water might flow from the rock of his cavern. God having granted his prayer, he went with confidence to the scene of combat, and after a valiant struggle, merited the palm of martyrdom under
Maximian.

At Antioch, St. Artemius, imperial officer. Although he had filled high stations in the army under Constantine the Great, Julian the Apostate, whom he had reprehended for his cruelty towards Christians, ordered him to be beaten with rods, subjected to other torments, and finally beheaded.

At Cologne, the martyrdom of the holy virgins Martha and Saula, with many others.

At Minden, the birthday of St. Felician, bishop and martyr.

At Paris, the holy martyrs, George, deacon, and Aurelius.
In Portugal, St. Irene, virgin and martyr.

In the diocese of Rheims, St. Sindulphus, confessor.

And elsewhere in divers places, many other holy martyrs, confessors, and holy virgins.


Omnes sancti Mártyres, oráte pro nobis. ("All ye Holy Martyrs, pray for us", from the Litaniae Sanctorum, the Litany of the Saints)
Response: Thanks be to God.


Roman Martyrology by Month
Why the Martyrs Matter

Each day we bring you a calendar, a list really, of the holy Martyrs who had suffered and died for Christ, for His Bride the Church, and for our holy Catholic Faith; men and women for whom — and well they knew — their Profession of Faith would cost them their lives.

They could have repudiated all three (Christ, Church, and Catholic Faith) and kept their lives for a short time longer (even the lapsi only postponed their death — and at so great a cost!).1

What would motivate men, women, even children and entire families to willingly undergo the most evil and painfully devised tortures; to suffer death rather than denial?

Why did they not renounce their Catholic Faith when the first flame licked at their feet, after the first eye was plucked out, or after they were "baptized" in mockery by boiling water or molten lead poured over their heads? Why did they not flee to offer incense to the pagan gods since such a ritual concession would be merely perfunctory, having been done, after all, under duress, exacted by the compulsion of the state? What is a little burned incense and a few words uttered without conviction, compared to your own life and the lives of those you love? Surely God knows that you are merely placating the state with empty gestures …

Did they love their wives, husbands, children — their mothers, fathers and friends less than we do? Did they value their own lives less? Were they less sensitive to pain than we are? In a word, what did they possess that we do not?

Nothing. They possessed what we ourselves are given in the Sacrament of Confirmation — but cleaved to it in far greater measure than we do: Faith and faithfulness; fortitude and valor, uncompromising belief in the invincible reality of God, of life eternal in Him for the faithful, of damnation everlasting apart from Him for the unfaithful; of the ephemerality of this passing world and all within it, and lives lived in total accord with that adamant belief.

We are the Martyrs to come. What made them so will make us so. What they suffered we will suffer. What they died for, we will die for. If only we will! For most us, life will be a bloodless martyrdom, a suffering for Christ, for the sake of Christ, for the sake of the Church in a thousand ways outside the arena. The road to Heaven is lined on both sides with Crosses, and upon the Crosses people, people who suffered unknown to the world, but known to God. Loveless marriages. Injustices on all sides. Poverty. Illness. Old age. Dependency. They are the cruciform! Those whose lives became Crosses because they would not flee God, the Church, the call to, the demand for, holiness in the most ordinary things of life made extraordinary through the grace of God. The Martyrology we celebrate each day is just a vignette, a small, immeasurably small sampling of the martyrdom that has been the lives of countless men and women whom Christ and the Angels know, but whom the world does not know.

"Exemplum enim dedi vobis", Christ said to His Apostles 2. "I have given you an example." And His Martyrs give one to us — and that is why the Martyrs matter.


Joseph Mary del Campos
Editor, Boston Catholic Journal


Note: We suggest that you explore our newly edited and revised "De SS. Martyrum Cruciatibus — The Torments and Tortures of the Christian Martyrs" for an in-depth historical account of the sufferings of the Martyrs.

---

INTRODUCTION TO THE ROMAN MARTYROLOGY
by J. Cardinal Gibbons, Archbishop of Baltimore

THE ROMAN MARTYROLOGY is an official and accredited record, on the pages of which are set forth in simple and brief, but impressive words, the glorious deeds of the Soldiers of Christ in all ages of the Church; of the illustrious Heroes and Heroines of the Cross, whom her solemn verdict has beatified or canonized. In making up this long roll of honor, the Church has been actuated by that instinctive wisdom with which the Spirit of God, who abides in her and teaches her all truth, has endowed her, and which permeates through and guides all her actions. She is the Spouse of Christ, without spot or wrinkle or blemish, wholly glorious and undefiled, whom He loved, for whom He died, and to whom He promised the Spirit of Truth, to comfort her in her dreary pilgrimage through this valley of tears, and to abide with her forever. She is one with Him in Spirit and in love, she is subject to Him in all things; she loves what He loves, she teaches and practices what He commands.
If the world has its "Legions of Honor," why should not also the Church of the Living God, the pillar and the ground of the truth? If men who have been stained with blood, and women who have been tainted with vice, have had their memory consecrated in prose and in verse, and monuments erected to their memory, because they exhibited extraordinary talents, achieved great success, or were, to a greater or less extent, benefactors of their race in the temporal order, which passeth away, why should not the true Heroes and Heroines of Jesus, who, imitating His example, have overcome themselves, risen superior to and trampled upon the world, have aspired, in all their thoughts, words, and actions, to a heavenly crown, and have moreover labored with disinterested zeal and self-forgetting love for the good of their fellow-men, have their memories likewise consecrated and embalmed in the minds and hearts of the people of God? If time have its heroes, why should not eternity; if man, why should not God? "Thy friends, O Lord, are exceedingly honored; their principality is exceedingly exalted." Whom His Father so dearly loved, the world crucified; whom the world neglects, despises, and crucifies, God, through His Church, exceedingly honors and exalts. Their praises are sung forth, with jubilation of heart, in the Church of God for ages on ages.
The wisdom of the Church of God in honoring her Saints is equaled only by the great utility of the practice thus consecrated. The Saints are not merely heroes; they are models. Christ lived in them, and Christ yet speaks through them. They were the living temples of the Holy Ghost, in whose mortal bodies dwelt all the riches of His wisdom and grace. They were in life consecrated human exemplars of divine excellence and perfection. Their example still appeals to our minds and to our hearts, more eloquently even than did their words to the men of their own generation, while they were in the tabernacle of the flesh. Though dead, they still speak. Their relics are instinct with sanctity, and through them they continue to breathe forth the sweet odor of Christ. The immortality into which they have entered still lingers in their bones, and seems to breathe in their mortal remains. As many an ardent, spirit has been induced to rush to the cannon's mouth by reading the exploits of earthly heroes, so many a generous Christian soul has been fired with heavenly ardor, and been impelled to rush to the crown of martyrdom, by reading the lives and heroic achievements of the Saints and Martyrs of Christ. Example, in its silent appeal, is more potent in its influence on the human heart and conduct than are words in their most eloquent utterances.
The Church knows and feels all this, in the Spirit of God with whom she is replenished ; and hence she sets forth, with holy joy and exultant hope, her bright and ever-increasing Calendar of Sanctity of just men and women made perfect and rendered glorious, under her unearthly and sublime teachings. In reading this roll of consecrated holiness, our instinctive conclusion is, precisely that which the great soul of St. Augustine reached at the very crisis of his life, the moment of his conversion "If other men like me have attained to such sanctity, why not I? Shall the poor, the afflicted, the despised of the World, bear away the palm of victory, the crown of immortality, while I lie buried in my sloth and dead in my sins, and thus lose the brilliant and glorious mansion already prepared for me in heaven? Shall all the gifts, which God has lavished upon me, be ingloriously spent and foolishly wasted, in the petty contest for this world's evanescent honors and riches, while the poor and contemned lay up treasures in heaven, and secure the prize of immortal glory? Shall others be the friends of God, whom He delights to honor, while I alone remain His enemy, and an alien from His blessed Kingdom?"
It is a consoling evidence of progress in the spiritual life in this country to find the Martyrology here published, for the first time, in English, and thereby made accessible, in its rich treasures of Sanctity, to all classes of our population. It will prove highly edifying and useful, not only to the members of our numerous religious Communities of both sexes, but also to the laity generally. Every day has here its record of Sanctity; and there is scarcely a Christian, no matter how lowly or how much occupied, who may not be able to daily peruse, with faith and with great profit, the brief page of each day's models of Holiness. These belong to all classes and callings of life; from the throne to the hovel, from the Pontiff to the lowest cleric, from the philosopher to the peasant, from the busy walks of life to the dreary wastes of the desert.
Let all, then, procure and read daily the appropriate portions of this Martyrology. Its daily and pious perusal will console us in affliction, will animate us in despondency, will make our souls glow with the love of God in coldness, and will lift up our minds and hearts from this dull and ever-changing earth to the bright and everlasting mansions prepared for us in Heaven!
Imprimatur, J. Cardinal Gibbons, Archbishop Baltimore, Maryland 1916

Printable PDF Version
______________________________
1 The Lapsi were early Catholics who renounced the Faith and either sacrificed to the Roman gods by edict from the emperor, or offered incense to them to escape Imperial persecution and death, and who later returned to the Faith when persecution subsided. However, Christ warns us, "Every one therefore that shall confess me before men, I will also confess him before my Father who is in heaven. But he that shall deny me before men, I will also deny him before my Father who is in heaven." (St. Matthew 10.3-33)
2 St. John 13.15