Lullaby:

a Rumor of Children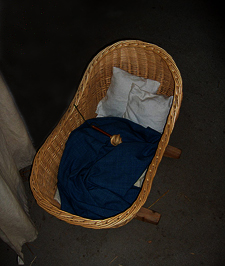 The Empty Cradle ...
Is there a better metaphor for the culture of Death that pervades the West?
It is extremely significant that among the most vociferous critics of the Catholic Church are those who stand in absolute defiance against Her condemnation of three of the most reprehensible moral practices:
Contraception

Homosexuality

Abortion

The first practice intends to prevent life.

The second is utterly sterile and can never produce it.

And the third extinguishes it.

Such hostility to life itself ... !
A culture that condones abortion, encourages contraception, and promotes homosexuality, has no future – for it has no children.

Like Saturn we consume our children and in our old age lament our barrenness.
Who, we will one day wonder, will be left to bury us when we are dead?
Editor
Boston Catholic Journal

Printable PDF Version